As a business owner you know that Internet access is one of the core necessities of your growing business. Honestly, Internet access enables your employees to work, keeps your website current and running, and allows you to communicate with clients. Having a reliable Internet is just as important as having lights and power in your office space. We have all made decisions about which Internet provider and connectivity to use in our homes. These decisions can be a bit complicated, but are generally very simple. However, when it comes the time to select the appropriate Internet connectivity option for our business, thing can be a bit more complicated. Also, of course, there is a heavier financial burden involved.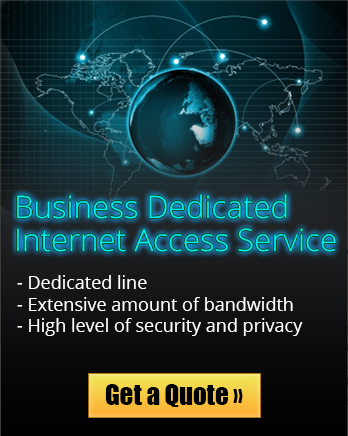 One great Internet connectivity option for businesses today is a Business Dedicated Internet Access Service. This option is ideal for busy businesses that require a great deal of bandwidth. Wideband and broadband services are not capable of providing the extensive amount of bandwidth that Business Dedicated Internet Access Service can provide.
Business Dedicated Internet Access service comes with a great deal of helpful features for you and your business. First of all, the dedicated line is able to provide you with exclusive service and exclusive use of your connection lines. This means that when the Internet slows down during peak hours, or when congestion arises you will remain unaffected. This dedicated line is able to provide your business with a high level of security and privacy. This is ideal since business information is often sensitive. Also, your private line will supply you with a symmetrical connection. This means that uploads and downloads will receive the same amount of support and your data will flow smoothly and continuously. To ensure this flow providers will monitor your dedicated service 24 hours a day.
Business Dedicated Internet Access is the perfect choice for most businesses due to its reliability and efficiency. If you are interested in possibly bringing Business Dedicated Internet service to your business you can rest assured that it is very easy to install. Most offices today are pre-equipped with the necessary infrastructure to run Dedicated Internet Access. If this is the case in your office you can expect a reduced installation time and cost.
At Connecthere we work with all major service providers from AT&T to Verizon. This allows us to compare prices and get you the best service at the most competitive price available. Please contact us today if you would like a free personalized quote. Our customer service experts and technicians are available around the clock to answer your questions. We take pride in guiding businesses in the right direction and we look forward to working with you. Thank you.
Image Source : jscreationzs / FreeDigitalPhotos.net