OneFlex Integrated Access – The power of high-speed digital transport and dynamically allocated bandwidth on the same circuit
CenturyLink's OneFlex Integrated Access provides a simple solution that combines both voice and data over the same circuit. Additional features are integrated into the product to assist in running your business more efficiently. Competitively priced, OneFlex Integrated Access allows you to transition from standard telephone service to Voice over Internet Protocol (VoIP) without the need to replace your current telephony equipment. With dynamically allocated voice bandwidth on demand, you have the opportunity to build a solid, stable communications foundation that will grow with your expanding business needs and provide the competitive edge to succeed in the marketplace.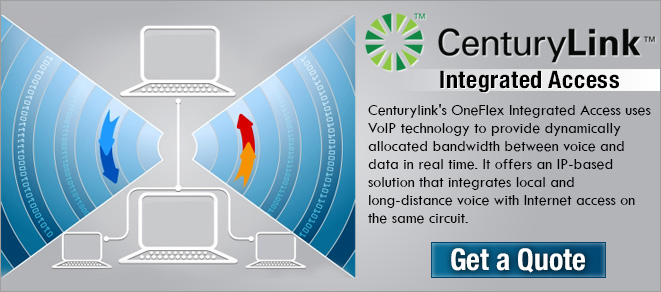 Description :
OneFlex Integrated Access is provided over a T-1 circuit that can be used to transfer data, access the Internet and have real-time, two-way voice calls via IP. It is designed to meet the voice and data needs of single and multi-location businesses. You can make off-net local toll, domestic long distance and international calls to end users on the public switched telephone network (PSTN) as a low-cost option. Also available are popular calling features like caller ID, call forwarding, voice mail and e-mail. Additionally, calls between users on the CenturyLink OneFlex VoIP network are at no additional charge, which is a powerful feature that delivers savings on calls between your locations and your business partners. CenturyLink delivers all of this as a robust nationwide offering, providing your business with the tools and support for all of your communications needs.
Benefits:
Simple solution– Local, long distance, international voice, and data services from one provider.
Cost savings– Single and multiple business locations benefit from this technology and reduce overall communication costs. By leveraging your current investments in existing private branch exchange (PBX) and key system equipment, you have the flexibility to spend in other essential areas of your business.
Pivotal product for advanced technologies– CenturyLink can provide an integrated solution that meets your specific needs using a flexible IP network. The service also provides a foundation to move your business to higher-end products.
Increased efficiency– Management of both voice and data telecommunications needs is bundled into one technology.
Features:
Consolidation of multiple traffic types over the same circuit.
Supports data speeds of 1.536 Mbps.
Up to 46 OneFlex Integrated Access voice lines available per T-1 circuit.
Real-time dynamically allocated bandwidth between voice and data channels.
Unlimited local and on-net calling.
Customizable feature configurations to meet your daily needs.
Termination to existing PBX or key system equipment.
Selectable voice mail capabilities.
Customer portal to manage hunt-group feature changes and more.
How it works
OneFlex Integrated Access uses VoIP technology to provide dynamically allocated bandwidth between voice and data in real time. The offering is an IP-based solution that integrates local and long-distance voice with Internet access on the same circuit. VoIP technology gives customers the advantage of using the entire circuit for Internet access when phones are not in use. The CenturyLink technology management team has built thresholds within the product to ensure high IP quality, regardless of the number of voice lines in use.
At Connecthere.com, we partner with the top providers of Data and Internet Services and can help you choose the right solution for your business. We provide instant Internet quotes from Tier One providers delivered in minutes to your email box for the following Services: DSL, Internet T1, Bonded Internet T1, Internet T3 / Internet DS3, Voice PRI, Voice T1, MPLS, Ethernet, Integrated access, Long Distance T1, and VoIP services. We guarantee that our providers' T1 prices are the lowest in the industry. For a no obligation immediate T1 quote visit us at Connecthere.com
Image Source : Mapichai / FreeDigitalPhotos.net