High Quality Long Distance Service Over the CenturyLink Fiber Optic Network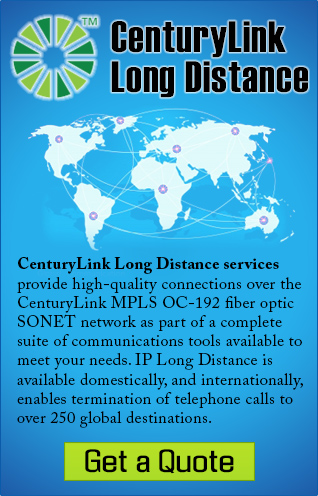 Long-distance service is a significant part of any business and an important building block in your virtual enterprise solution. CenturyLink Long Distance services provide high-quality connections over the CenturyLink multi-protocol label switching (MPLS) OC-192 fiber optic SONET network as part of a complete suite of communications tools available to meet your needs.
CenturyLink maintains a national inter-exchange network infrastructure that combines the use of a traditional circuit switched platform with a next generation voice services platform. The CenturyLink inter-exchange carrier (IXC) network connects to all major serving areas.
CenturyLink outbound long distance, inbound toll free and Internet Protocol (IP) is available for connectivity to the CenturyLink IP network and to the public switched telephone network (PSTN).
Guarantees network up time at 99.95%: Reliably carrying over three billion minutes of call usage every month.
Uses 18/6 billing increments: Domestic long-distance calls are rounded up to 18-seconds initially and rounded up to 6-second increments thereafter.
Long Distance Business Services
Switched Long Distance
Switched long distance can be defined as calls that connect to the PSTN via the prescribed inter-exchange carrier (PIC) assigned to the out-going telephone line. Switched long-distance call fees include per minute of use charges for both the originating and terminating ends of the call. Switched long distance does not require any additional equipment on customer premises.
Dedicated Long Distance
CenturyLink Dedicated Outbound Long Distance service provides local access to the CenturyLink national network via a local loop circuit using CenturyLink-owned and operated facilities, third-party provider facilities, or facilities customer arranged on its own (customer-provided access). Actual bandwidth and speed of circuits can vary from 56/64 Kbps or 1.544Mbps up to 1 Gbps, Dedicated long-distance call fees include monthly charges for the dedicated circuit and per minutes of use charges for the terminating end of the call. There are no per-minutes of use charges for the originating end of the call. Customers will need long-distance routing equipment on their premises to accommodate dedicated long distance.
Inbound Toll Free (8XX)
Toll-free service provides a cost-effective method for customer contact and support for pre- and post-sales, order taking, product support, general information and other key customer service functions. Businesses of all sizes use toll-free numbers for their customers to reach them and for employee access to voice mail and remote dial-in applications. Toll-Free services can streamline operations while reducing costs and increasing customer loyalty.
CenturyLink Toll Free Service offers standard and customized toll-free packages that allow businesses to maximize customer satisfaction, increase sales and improve employee productivity. CenturyLink Toll Free Services include a full suite of Routing and Overflow feature options to effectively distribute and manage your calls. Download this product overview.
Toll Free Feature Bundles
Companies that conduct international business need to extend their reach. Even with the Internet, the ability for international customers to easily reach your U.S.-based business via a live conversation is essential to differentiating your offerings and increasing your international penetration and customer retention. CenturyLink International Voice Network consists of multiple layers for redundancy and fail-safe measures to ensure international call completion. Plus, the CenturyLink International Network separates retail and wholesale traffic to eliminate contention. Integrate CenturyLink International service into your communications package to create a comprehensive and flexible long-distance service that guarantees completed calls with better quality and lower costs.
Internet Protocol Long Distance (IPLD)
OneFlex IP Long Distance and Toll Free Services offer the ability to make outbound long- distance calls from a CenturyLink voice over the Internet (VoIP) network to the PSTN and the ability to receive inbound toll-free 8XX calls from the PSTN on the CenturyLink VoIP network. CenturyLink IPLD offers easy access through their CenturyLink iQ Networking Internet service and they also support the use of the customer's own Internet service. CenturyLink is a premier provider of long distance, toll free and VoIP services, carrying over four billion minutes of use per month over the CenturyLink IP network.
CenturyLink IP Long Distance provides an IP-based connection for voice traffic exchange. IP Long Distance, available domestically, and internationally, enables termination of telephone calls to over 250 global destinations.
WorldCard
Business travel will always be a critical component of building and maintaining business relationships. When you are traveling, the worldcard calling card keeps you connected with a toll-free access number for placing long-distance calls from domestic and international locations.
The world is just a call away with worldcard international dialing service. Worldcard offers calling access to over 250 countries from the United States. If you are abroad, worldcard provides you calling access from over 80 countries for calls back home. Limited international country to country is also available.
At Connecthere, we partner with the top providers of Data and Internet Services and can help you choose the right solution for your business. We provide instant Internet quotes from Tier One providers delivered in minutes to your email box for the following Services: DSL, Internet T1, Bonded Internet T1, Internet T3 / Internet DS3, Voice PRI, Voice T1, MPLS, Ethernet, Integrated access, Long Distance T1, and VoIP services. We guarantee that our providers' T1 prices are the lowest in the industry. For a no obligation immediate T1 quote visit us at Connecthere.com.
Image Source : samuiblue/ FreeDigitalPhotos.net