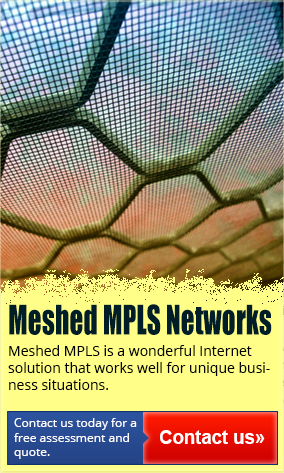 When data travels across and through the Internet it is subjected to a lot of potential roadblocks. For one, the Internet is swamped with congestion during peak hours. This makes sense since the Internet is busiest during work hours when millions of people are transferring data at once. This congestion can often cause slowdowns. Also, errors unrelated to your business could cause major hold ups on the Internet. You may notice the effects of these errors in the form of slowdowns, dropped connections and partially loaded web pages. Luckily there is a way to avoid these external issues. Meshed MPLS Networks allow you to send your data in a quicker and more efficient manner across the Internet.
How Does Meshed MPLS Work?
MPLS basically uses labeling to get your data from starting point to ending point quickly. Without the use of MPLS data leaves its starting point and heads off to a nearby node. At this node a router looks up your data's destination address and then sends the data to another nearby node in the direction of your ultimate end point. Then, at the next node, a new router looks up the destination address and sends the data along to another node. This stop, look up, and go continues over and over until the data finally reaches the end point. MPLS has the ability to cut your data's travel time in half by eliminating these repetitive stop and go steps. MPLS works by packaging your data and adhering an external simplified label to it. This label defines your end point and this allows your data to speed through nodes towards its final destination and eliminates the need for additional router look-ups. MPLS is an incredibly effective service that will surely speed up your data transfer. But, what if you have several geographically dispersed offices? Often times in this case different carrier solutions work better for different office locations. With a Meshed MPLS you can run an overall MPLS for your business, but still employ the appropriate carrier for each of your offices. The mesh lets you enjoy the security and speed of MPLS without having to choose just one carrier.
Meshed MPLS is a wonderful Internet solution that works well for unique business situations. If you think that Meshed MPLS may be the right option for your business or if you would like more information please contact us at ConnectHere. We work with many of the major providers and we offer a wide array of solutions. We would love to work with you to assess your unique connectivity needs and determine the perfect IT solution for you. Please contact us today for a free assessment and quote.