When it comes to running a business communication is everything. Of course you already know this. How could you possibly sell a product or promote a service without getting in touch with your clients? And, even on the internal level, how could you possibly rally a team or maintain brand continuity without communication?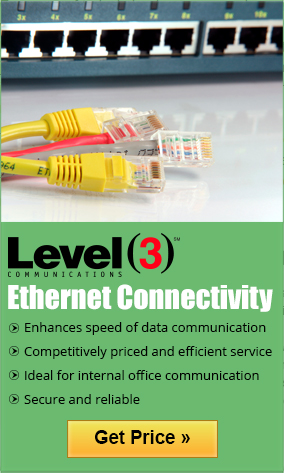 Communication has not always been as simple as it is today. It wasn't too long ago that we could only communicate with snail mail, infrequent stationary calls and face-to-face visits. We can thank technology for enhancing our ability to communicate. And, probably the most valuable means of communication that we have today is the Internet. Emails have become the basis of most business communication and websites have quickly become the main face of our companies. Since we rely so much on the Internet, it is important to make the right connectivity decision for your business.
The most common connectivity option for businesses today is Ethernet. It is secure and reliable. It basically enhances the function and speed of data communication in a small set area. This service works well in an office space where many different devices are working simultaneously. If you have an office with several computer, printers and fax machines in close proximity, Ethernet could be the right fit for you. All of the devices in your office are connected to each other in the Local Area Network. This means that your internal and interoffice connect will be fast and reliable. It also means that your internal communication will remain unaffected by the congestions and slowdowns of the Internet as a whole. You likely will not have to worry about peak hour slowdowns or disconnects. Ethernet ultimately allows for all of these interconnected devices to connect seamlessly with the Wide Area Network and reach external machines.
Since Ethernet is such a prominent connectivity choice for businesses there are many providers for you to choose from. Level3 is one of these options. At this time Level3 Communications spans 29 different countries and they are constantly working to expand their reach.
At Connecthere we take pride in providing all of our customers with the most competitive prices available to them. In order to do this we work with a wide range of service providers and we offer free personalized price quote. That being said, we know that Level 3 is a competitively priced and incredibly efficient service. If you are interested in finding out more about Level3 Ethernet for your business please do not hesitate to contact us. You can reach Connecthere via phone, email or live chat here on our website. We look forward to working with you and your business. Thank you.

Contact us for
Ethernet Connectivity

available in your area