Protect Your Virtual Enterprise
For your business to compete in today's ever-changing marketplace, you must extend your market reach via tools such as the Internet and communications systems. As the speed of virtual business accelerates with newer and better technologies, your need to protect key business operations from competition and downtime becomes even greater. In response, CenturyLink offers Private Line services that protect your critical business traffic and provide exceptional reliability and accessibility.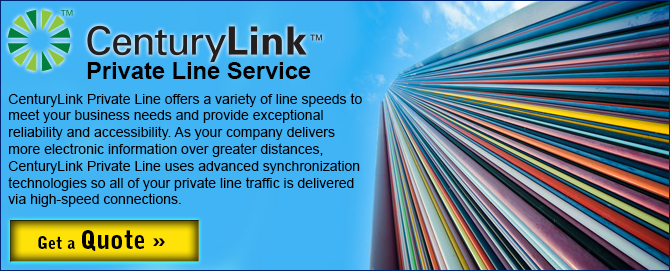 Secure Your Traffic Between Locations
CenturyLink Domestic Private Line gives you the peace of mind that your internal business traffic is transmitted quickly and securely via an end-to-end private connection*. Deployed over the CenturyLink Network, a complete range of digital and analog Private Line services is available for growing businesses seeking end-to -end provisioning, extensive domestic and international availability, industry-leading service level agreements (SLAs) and competitive pricing.
Select Line Speeds That Meet Your Business Needs
CenturyLink Private Line offers a variety of line speeds to meet your business needs. Digital Private Line service is available at DS-0 (64 Kbps), fractional DS-1 (128 Kbps and up), DS-2 (1.544 Mbps), DS-3 (45 Mbps) and OC-N (155 Mbps and up). Digital Private Line services utilize digital local loops that provide nearly 100 percent end-to-end network availability. CenturyLink DS-1 service can also be configured as clear channel or channelized and it is compatible with virtually all DS-1 systems in use today. For your analog requirements, CenturyLink Private Line supports tie lines, off-premises extensions, foreign exchange lines and automatic ring down lines.
Transmit Data, Image and Voice traffic Over One Private Line
As your company delivers more electronic information over greater distances, the need to transmit data, video and voice reliably and securely becomes essential.
CenturyLink Private Line uses advanced synchronization technologies so all of your private line traffic — from DS-0 to OC-N — is delivered via high-speed connections.
By selecting CenturyLink Private Line for multi-gigabit and voice services, you can focus on the business of your virtual enterprise.
Domestic Private Line is a part of the CenturyLink Total Advantage offering which allows you to receive better discounts on Private Line and other communications services based on your total spending with CenturyLink.
At ConnectHere, we partner with the top providers of Data and Internet Services and can help you choose the right solution for your business. We provide instant Internet quotes from Tier One providers delivered in minutes to your email box for the following Services: DSL, Internet T1, Bonded Internet T1, Internet T3 / Internet DS3, Voice PRI, Voice T1, MPLS, Ethernet, Integrated access, Long Distance T1, and VoIP services. We guarantee that our providers' T1 prices are the lowest in the industry. For a no obligation immediate T1 quote visit us at Connecthere.com.