In today's fast-moving, competitive environment, you depend on your network to support your critical business applications across your virtual private network (VPN).
CenturyLink iQTM Data Networking® Private Port is isolated from the public Internet to help ensure a secure and reliable IP VPN. Private Port uses multi-protocol label switching (MPLS) to create a fully meshed, any-to-any VPN and a flexible quality of service (QoS) to meet your increasing demands for IP-based content delivery.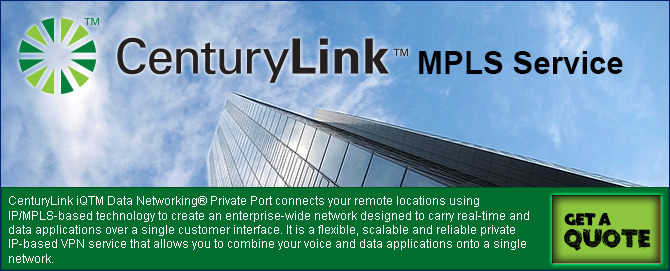 The CenturyLink OC-192 IP network is one of the most advanced networks available, with best–in–class service level agreements (SLAs) and some of the highest customer access speeds in the industry today. With CenturyLink iQTM Data Networking Private Port, you can converge all of your communications onto a single network to increase reliability and reduce your total cost of ownership.
Description
CenturyLink iQTM Data Networking Private Port is a flexible, scalable and reliable private IP-based VPN service that allows you to combine your voice and data applications onto a single network. Based on the CenturyLink OC-192 IP network, Private Port is the ideal environment for Voice over Internet Protocol (VoIP), video and other bandwidth-intensive business applications.
CenturyLink iQTM Data Networking Private Port supports a variety of access types including IP Access, Ethernet, Frame Relay and ATM. Private Port simplifies any-to-any connectivity and allows you to segment and prioritize data traffic. It enables your business to combine real-time applications over a single IP-based infrastructure to expand your virtual enterprise.
Features:
OC-192 IP backbone network
Supports Layer 1 and multiple Layer 2 access types
Flexible QoS functionality
Four priority queues
14 percentage templates
Four queuing methods
Comprehensive SLAs
Any-to-any connectivity
Flat rate, tiered and usage-sensitive billing options (Usage-based billing not available on Private Ports using Ethernet access)
Benefits:
A state-of-the-art global IP backbone–no backbone congestion
Use your existing Frame Relay and ATM technologies to access advanced IP technologies
Robust QoS to prioritize time time-sensitive traffic such as VoIP and video streaming
Performance is backed by industry leading SLA
Ideal for multimedia applications
Diverse billing options match bandwidth and budgetary requirements with competitive rates
How It Works
CenturyLink iQTM Data Networking® Private Port connects your remote locations using IP/MPLS-based technology to create an enterprise-wide network designed to carry real-time and data applications over a single customer interface.
Customer care centers (CCCs) are available to support your needs 24 hours a day, 365 days a year. CenturyLink network operation centers (NOCs) have full visibility and control of the platform with 24-hour management and proactive notification when problems occur. To facilitate access into their network, you have the option of CenturyLink iQTM Data Networking Private Ports with a variety of port speeds, ranging from 56Kbs to 2.4Gbps.
At Connecthere.com, we partner with the top providers of Data and Internet Services and can help you choose the right solution for your business.  We provide instant Internet quotes from Tier One providers delivered in minutes to your email box for the following Services:  DSL, Internet T1, Bonded Internet T1, Internet T3 / Internet DS3, Voice PRI, Voice T1, MPLS, Ethernet, Integrated access, Long Distance T1, and VoIP services.  We guarantee that our providers' T1 prices are the lowest in the industry.  For a no obligation immediate T1 quote visit us at Connecthere.com.