Reliable Internet Access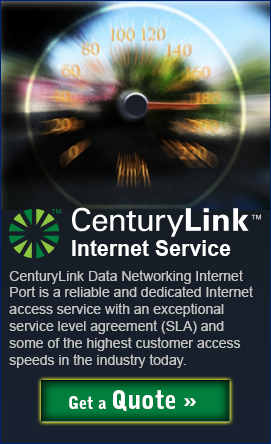 CenturyLink Data Networking Internet Port service is a crucial element in creating a virtual enterprise by delivering a high-speed, reliable and scalable Internet access service. You can maintain cost-effective communications with your branch offices and mobile employees quickly and easily by using CenturyLink to access the Internet.
CenturyLink Data Networking Internet Port is scalable and customized to your needs—tapping the full capability of the Internet by combining value-add services such as e-mail and Web hosting to meet your business needs, e.g. multi-media streaming, e-commerce and application hosting.
Description
CenturyLink Data Networking Internet Port is a reliable and dedicated Internet access service over the advanced CenturyLink OC-192 Internet protocol (IP) network, one of the most sophisticated networks available. It offers an exceptional service level agreement (SLA) and some of the highest customer access speeds in the industry today. Additional services can be used with Internet Port: security services, integrated customer premises equipment (CPE) solutions, international connectivity, Integrated Management Services, CenturyLink Control, the Web-based management and reporting portal and much more.
Features:
OC-192 IP network
Extensive peering arrangements
Multi-protocol label switching (MPLS) fast reroute and core redundancy
Comprehensive SLA
Flat-rate and usage-sensitive billing
CenturyLink Control Web-based customer portal
Best-of-breed Internet network partners around the world
Benefits:
A state-of-the-art global IP backbone—no backbone congestion.
Rapid access to content—users located domestically and around the world.
50 millisecond network recovery time.
Network performance and availability.
You can manage your network configuration.
You can purchase CenturyLink's reliable Internet service around the world.
Diverse billing options match bandwidth and budgetary requirements with competitive rates.
A full package of additional services to meet your demanding Internet needs.
How It Works
CenturyLink Data Networking Internet Port provides a complete range of services for various enterprise networking requirements. The CenturyLink OC-192 IP network backbone is engineered for minimal packet loss and network congestion.
Customer care centers are available to support your needs 24/7. CenturyLink network operations centers have full visibility and control of the platform with 24-hour management and notification when problems occur. To facilitate access into their network, you have the option of CenturyLink Internet Ports with a variety of port speeds, ranging from 56kbps to 2.4 Gbps, and at Ethernet speeds 10Mbps, 100Mbps, 1000Mbps and 10Gigabit Ethernet.
The following port types are available in fractional or full access speeds:
Fractional DS-1 starting at 56kbps
DS-1 (1.544Mbps)
NxDS-1 (3–12Mbps)
DS-3 (45Mbps)
OC-N (155Mbps and up)
Ethernet (10Mbps)
Fast Ethernet (100Mbps)
Gigabit Ethernet (1,000Mbps)
10 Gigabit Ethernet (10,000Mbps)
Why Buy From CenturyLink
CenturyLink knows how to design, build and run networks—currently running over three billion minutes of voice over IP (VoIP) distance service per month on the CenturyLink IP backbone.
CenturyLink manages its own network—one of the largest, most sophisticated networks in the world.
CenturyLink provides a reliable, robust and fully managed service solution, sized and configured to meet your business needs and sharpen your competitive edge.
At Connecthere.com, we partner with the top providers of Data and Internet Services and can help you choose the right solution for your business. We provide instant Internet quotes from Tier One providers delivered in minutes to your email box for the following Services: DSL, Internet T1, Bonded Internet T1,Internet T3/ Internet DS3, Voice PRI, Voice T1, MPLS, Ethernet, Integrated access, Long Distance T1, and VoIP services. We guarantee that our providers' T1 prices are the CenturyLink Data Networking Internet Port is a reliable and dedicated Internet access service over the advanced CenturyLink OC-192 Internet protocol (IP) network, one of the most sophisticated networks available. It offers an exceptional service level agreement (SLA) and some of the highest customer access speeds in the industry today. lowest in the industry. For a no obligation immediate T1 quote visit us at Connecthere.com
Image Source : David Castillo Dominici / FreeDigitalPhotos.net