Vincent Van Gogh once said that "great things are done by a series of small things brought together." And while I'm pretty sure he wasn't talking about fiber optic Internet at the time, it does work in this situation. This is because fiber optics are small, hair thin threads that are bound tightly together and use waves of light to transmit data over a network.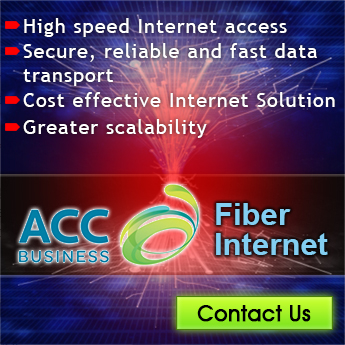 Fiber optics has become one of the most technologically advanced ways of transmitting voice and data. Not only do they take up less space than traditional cable, but they are also capable of carrying more bandwidth, and use digital as opposed to analog data transmission. In fact, the benefits that fiber Internet provides are so great that it is quickly replacing traditional copper within networks across the globe. And according to the managing editor of Fierce Markets' Wireline Group, Samantha Bookman, it is just a matter of time, stating that "the timeline of when legacy networks will be completely replaced by fiber as the backbone of IP service is certainly not clear, but it's going to happen."
One provider of fiber Internet service is ACC Business, which offers its customers' access to the AT&T Network, the biggest, most sophisticated and reliable network in the world. ACC fiber Internet delivers high speed Internet access to allow your business to perform daily operations and utilize bandwidth intensive applications necessary to succeed. In addition, the secure connectivity that ACC fiber Internet provides makes it the ideal choice for any company that employs cloud computing.
That being said, ACC fiber Internet is more than just high speeds, it is also an extremely cost effective solution. This is because ACC fiber Internet access offers businesses greater scalability and a lesser cost per bit as they migrate to higher speeds. Moreover, ACC fiber Internet connections offer operational simplicity and are easier for network providers to provision service for businesses when compared to copper.
It is clear that if you are in the market for secure, reliable and fast data transport, the speed of light is the way to go – and ACC fiber Internet can deliver exactly that. Give it a try and see why fiber Internet connections are now the preferred access method for the majority of today's businesses. Contact us today for ACC fiber Internet pricing available in your area, and we can work to find you the ideal solution for your business.
Image Source : MR LIGHTMAN / FreeDigitalPhotos.net
Contact us for
ACC Fiber Internet Pricing

available in your area